Beard Shampoo and Conditioner Bundle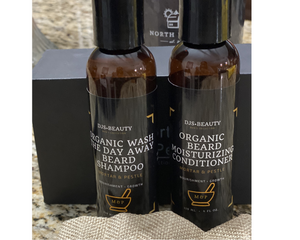 Shampoo: Wash the day away beard shampoo is specifically designed for the hair on your face, which is different than the hair on your head. This shampoo is specially designed to clean and condition without stripping away your natural oils. This shampoo will cleanse while hydrating and nourishing your beard and the skin underneath. 4 oz.

Conditioner: This nourishing beard conditioner contains butters and essential oils that will soften and moisturize. The conditioner is rich in natural Olive, Avocado, Jojoba, Argan, and Sweet Almond Oil, which will provide your beard with hydration without causing itchiness. 4 oz.