CC12 Tapered Flat Concealer Brush (Single Brush)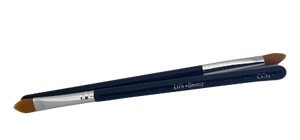 A flat, angled (tapered) concealer brush that can be used to clean up your eye or lip look, apply and blend your cream or liquid concealer to perfection. The bristles are flat and allow one to reach all the spots for spot-on coverage. This is also a great cut-crease brush. A wooden handle with sable hair bristles.
*The picture reflects two brushes to show angles. However, only one brush is included.