"Fearless" Mink Eyelashes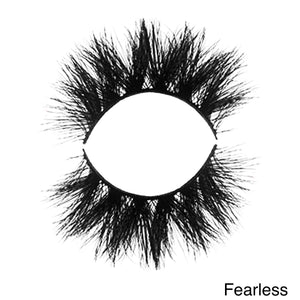 A Bold statement lash. This is the bold lash for a professional.  This is a seal the deal kind of lash.  These lashes have a crisscrossed curled  fluffy pattern make you want to love 'em and wear 'em. Lashes are handmade to exact specifications. If properly cared for, lashes can be reshaped or adorned as desired.
All of our Mink lashes are animal cruelty free.

RECOMMENDED USAGE
1. Trim full lash to fit your eye shape/length.
2. Apply a small amount of lash glue to the strip and allow 30 seconds for glue to become tacky.
3. Position the strip at the base of your natural lashes and gently press onto the lash line.
4. If properly cared for and cleaned, lashes can be reworn and reshaped for up to 25 uses.