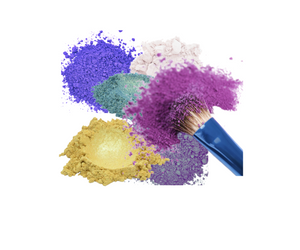 These highly pigmented pigments are great for eyeshadow toppers, highlight, and blush. The Slay Shimmers  formerly known as toppers, come in 20g jars. 
Topper Descriptions:
Queen Ky- A shimmery reddish Purple with hints of gold and silver
Royalty- A deep purple with hints of gold and silver shimmer
September- A shimmery pastel blue with  hint of green hues and reflective gold highlight.
Sheer Gold- A highly pigmented sheer white with gold reflection. Great for topping eyeshadow and making them pop even in the dark!

Power- This topper is too pigmented you can cut your crease with this by itself! It has hues of silver, white and gold! Very beautiful!
Hip Hop Gold- This topper reminds Doc of why she fell in love with Hip Hop back in the day! Using this will make you reminisce about the 80s and 90s. The gold pigmentation is amazing!!! You can use as eyeshadow, topper, highlight, and more!